POLICE DOG TITAN 2001-2004 REST IN PEACE OUR NOBLE FRIEND
Police Dog Titan was Beychief Magic Return and donated to NSW Police at ten weeks of age. Renamed Titan, he was puppy-walked by Snr Sgt David Williamson. At seven months, Titan was teamed with Snr Constable Sean McDowell. Titan proved himself an outstanding PD and graduated as a General Purpose Police Dog. Due to his attributes, Titan was selected for the Critical Incident Dog Program. On December 23rd, 2004, Snr Const. McDowell and PD Titan were deployed to a siege at Seven Hills. With an escalation of danger in the situation, Titan was sent to apprehend the offender, who police suddenly realized was armed with two knives. A violent struggle ensued in which PD Titan received mortal stab wounds. He died in his handler's arms. Snr Constable McDowell attempted mouth to mouth to revive his beloved dog. PD Titan received a Commissioner's Citation and the National German Shepherd Dog Council's Service Dog Award. Dogs NSW planted a tree and placed a memorial plaque in memory of PD Titan at the Bill Spillstead Complex for Canine Affairs.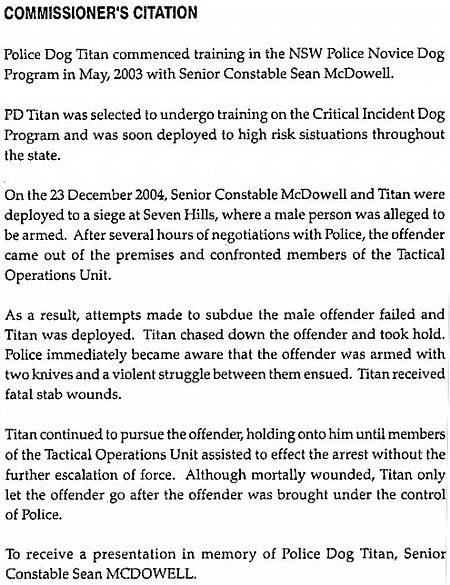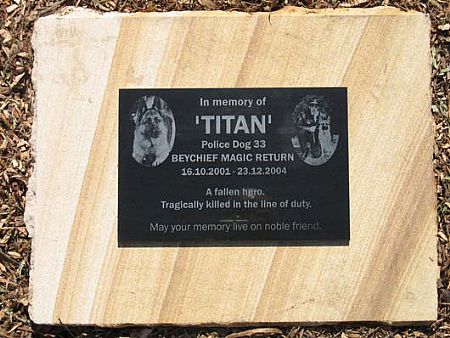 Below is an article from the April 2008 "Shepherd News,"
the official publication of the German Shepherd Dog League Inc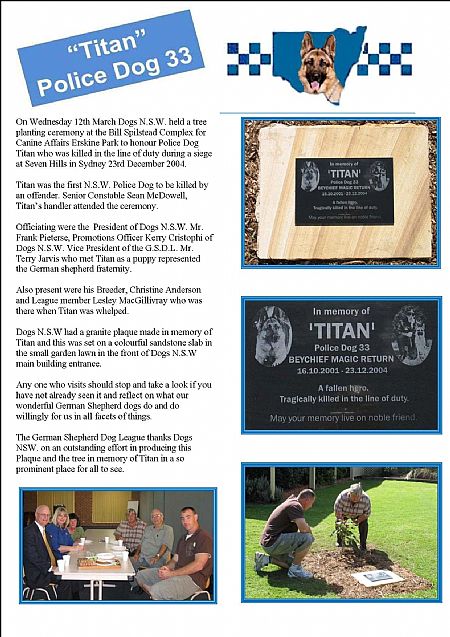 ---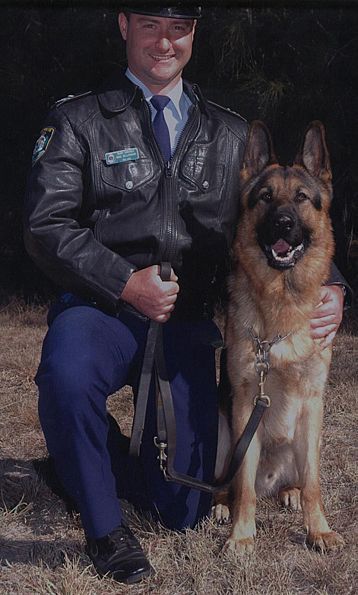 (Picture Police Dog Carts with
his trainer Snr Sgt David Williamson)
POLICE DOG CARTS 2002 - 2007 REST IN PEACE OUR NOBLE FRIEND
Police Dog Carts was Beychief Will Cody and a brother of PD Titan. Initially going to a home in the Snowy Mountains, he was later donated to the NSW Police where he proved a successful service dog, bringing to justice sex offenders and thieves. On one occasion he was deployed to search for a person missing in bushland. PD Carts found the man who was suffering from hypothermia. When his handler's job changed at the Dog Unit with a promotion, PD Carts was reteamed with Snr Constable Brett Williams. On December 9th, 2007, PD Carts attended a break and enter at Corrimal with Snr Constable Williams where two youths had allegedly stolen a quad bike after breaking into the Surf Life Saving Club. One youth stopped when asked, the other fled, then PD Carts was deployed. As a result, Carts received a stab wound to the neck and another to the ribs, the knife collapsing a lung. PD Carts was rushed to Wollongong Vet Hospital and then to the Animal Referral Hospital for surgery where he died of his horrific wounds. PD Carts has received posthumous awards, including the German Shepherd National Council's Award For Service Dogs. His litter brother, PD Bronx, continued to work until his retirement.
---
BEYCHIEF JESTER CDX
Our beloved Jester was a great friend and companion, a gentleman who left a mark upon the lives of his many friends. In 1984 this truly noble K9 leaped into the Nepean River at Yarrumundi and, almost at the loss of his own life, dragged 23 year old Boyd Symington from what was nearly a watery grave. Jester won many awards together with Panleda Seebee CD (see Below)
---

PANLEDA SEEBEE CD
Leada 1 helped Jester during the rescue of Mr Symington. Leada had a starring role in Chopper Squad, working with stunt man Grant Page and worked tirelessly in the community with disabled people.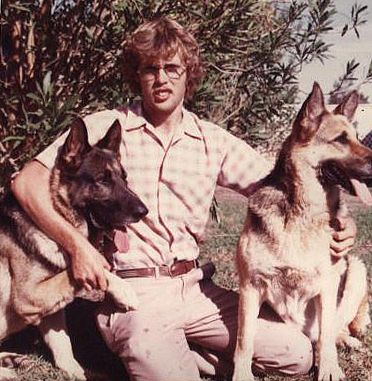 Jester and Leada with Boyd Symington
---
CH LORAMAX TAJA EUCLASE CDX TDX
Tara was a wonderful dog capable of great compassion. She excelled in all she applied a paw to. For her outstanding service as a therapy dog she was nominated for a Beyond Limits Award with Delta Society USA, which she received in 1996. In 2001 Tara became the ROYAL NSW CANINE COUNCIL'S Canine Hero for her achievements and service as a therapy dog.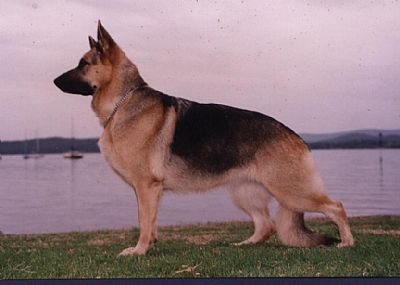 Ch Loramax Taja Euclase CDX TDX (Tara)
---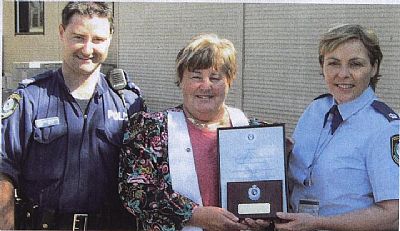 Chris Anderson receiving a plaque from the
NSW Police Dog Unit, the first civilian to be
given one in recognition of her support for
the NSWPDU.
---